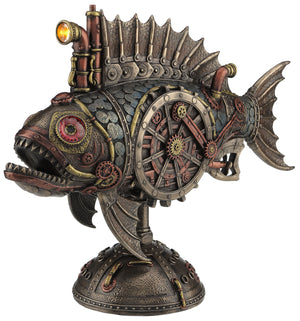 Submarine Fish Light
With a creepy-cool look sure to frighten off any predators or unwanted visitors, you'd be pretty safe scouring the depths from inside the SS Anglerfish! This steampunk submarine looks like it's been designed by a very sharp engineering team from the future-past. A periscope with an LED illuminates even the darkest depths, requires just 3 AAA batteries (not included).
Material: Cold Cast Antique Bronze
Measures

W 12" / D 5" / H 9.25"